2018 Veterans' Voices Grant Opportunity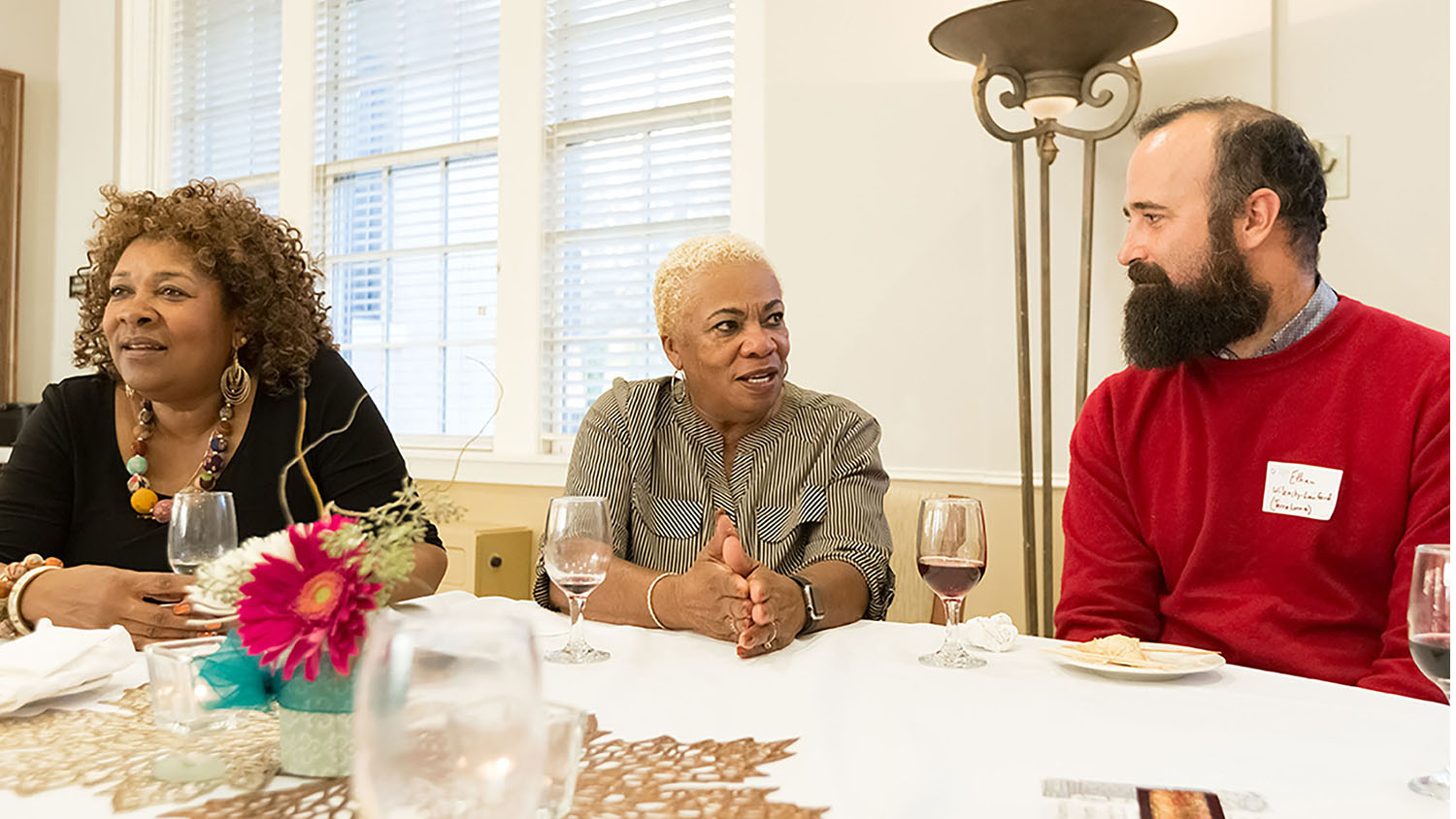 The Minnesota Humanities Center (MHC) is announcing the launch of a competitive grant opportunity through the Minnesota State Legacy Amendment Arts and Cultural Heritage Fund (ACHF). Aligning with its Veterans' Voices program, MHC is seeking humanities-based projects that celebrate the rich diversity of voices, identities, stories, and experiences of Minnesota's Veterans across the state.
Background
Drawing on the power of the humanities, the Veterans' Voices program changes the narrative of Veterans and honors their contributions while aiming to bridge the Veteran-civilian divide. It empowers Veterans to speak in their own voices through literature, discussions, plays, the Veterans' Voices Award, and more.
Grants are to fund programming tied to community engagement events that focus on Veterans Voices Month (October) or Veterans Day (November 11).
A 2014 state law, which passed the Minnesota legislature with unanimous support, designates October as Veterans' Voices Month. Minnesota is the first state in the U.S. to designate an entire month to Veterans and their experiences. Veterans' Voices Month builds understanding about what being a Veteran means and explores the unique military culture of Veterans.
November 11 is a day of remembrance of and for all branches of the U.S. military. Originally known as Armistice Day, the day was renamed in 1954 after the Korean War. Veterans Day pays tribute to all those who have served their country—not to be confused with Memorial Day which honors the sacrifice of those who have died in service of their country.
The Opportunity
Mini-grants for short-term projects will be awarded to organizations which are interested in implementing new, small-scale projects or enhancing existing programming around Veteran engagement with the community throughout Veterans' Voices month (October) or Veterans Day (November 11). Projects and/or activities should focus on bridging the divide between military personnel/Veterans and civilians in the community using humanities-based activities and subjects, including but not limited to: language, literature, history, philosophy, ethics, civics, storytelling, discussion and conversation, poetry, and other types of participatory and/or interactive humanities learning experiences.
Examples of project activities could be, but are not limited to:
A series of book discussions centered on war and memory using pieces of literature written by Veterans. Questions the group might discuss could include:

How we explore the complexity of all Veterans' service both combat and non-combat alike, or
How does a Veteran's service impact his/her family and the generations to come?

An evening music event in a public park featuring military bands and including pieces which challenge audiences to consider how an individual is transformed by their experience of service.
A one-act play at a local high school that challenges the audience to consider the various types of duty and paths to service Veterans may engage with (draft vs. volunteer, consciousness objector, National Guard and Reserve).
A community dialogue surrounding war and remembrance as a lens to observe the 100th anniversary of Armistice (Veterans) Day—a day that was believed to mark the end of all war.
Note: This is not a general operating support grant. These ACHF grants may be spent only for programs and events that celebrates and preserves the artistic, historical, and cultural heritages of communities in Minnesota. All money from the ACHF must be for projects located in Minnesota. Grant funds may only be spent on activities considered direct and necessary to the success of a project or program.
Grant range: Up to $7,500
Timeline
Application Deadline: 11:59 p.m. Central Time, Friday, May 18, 2018
Application Notification: No later than Friday, June 15, 2018
Grantee Meeting in Saint Paul: June 29, 2018
All grantees will be required, as a condition of their award, to send to project leaders to a Grantee Meeting at the Humanities Center on Friday, June 29, 2018 from 8:00 a.m. to 4:00 p.m.
Eligibility and State Funding Requirements
Who is eligible: Minnesota non-profit organizations (or organizations with a fiscal sponsor), Tribal Nations, and state/municipal public agencies such as K-12 schools, universities, or libraries may apply. Eligible organizations must be in good standing with the IRS, and up-to-date on reporting and state requirements for any funds previously awarded by MHC. MHC does not fund individuals.
Note: In good standing with the IRS means that the organization has completed all reporting requirements (including IRS form 990) and is therefore eligible to receive tax-deductible charitable contributions. MHC uses this searchable database to confirm IRS compliance. ACHF grants require that proposed and/or awarded projects and funds requested:
Projects must include measurable outcomes and a plan for measuring and evaluating the results
Grant funds must supplement, not substitute for, traditional funding sources
Grant funds may not be used for the following purposes:

To start, match, add to, or complete any type of capital campaign
For capital costs (such as improvements, construction, property, or equipment)
For indirect costs or other institutional overhead charges that are not directly related to, and necessary for, the activities outlined in the program proposal
For expenditures incurred before the date you are authorized by MHC to begin work
To supplement current programming (grant funds are for new projects or an expansion of an existing project)
To support benefits and fundraisers
If an organization or project does not meet all of the above requirements, it will not be considered.
Assessment Criteria
An independent review panel will review all proposals and make funding recommendations to MHC. The panel will review proposals based on the core values of MHC and evidence of the following questions/elements:
How does this project address cultural and/or educational needs in your community? In what ways is this project framed in community-identified solutions?
Strong proposals demonstrate community need and community-identified solutions, grounded in authentic relationships, and identify intended audiences and engagement strategies based on those relationships.
Who is engaged in the planning process? How are you involving a multiplicity of voices?
Strong proposals demonstrate a high level of collaboration, multiplicity of voices, and community involvement in planning, design, and implementation.
How do your project activities support clear goals for the program or project?
Strong proposals connect proposed project elements to clearly articulated goals. Panelists will be able to easily identify how project activities will support.
How are the proposed expenses vital to the success of the project or program?
Strong proposals will include budget expenses that are direct and necessary to the success of the project or program.
Although the panel will review proposals based on the review criteria as published above, the panel may consider the diversity of the overall awardee pool, including communities impacted and geography.
How to Apply
Proposals will only be accepted through the MHC online portal, Foundant. In order to submit a proposal, the lead applicant organization must register with Foundant. To register with Foundant, head to the login page and follow the "Create New Account" steps.