Humanities Innovation Lab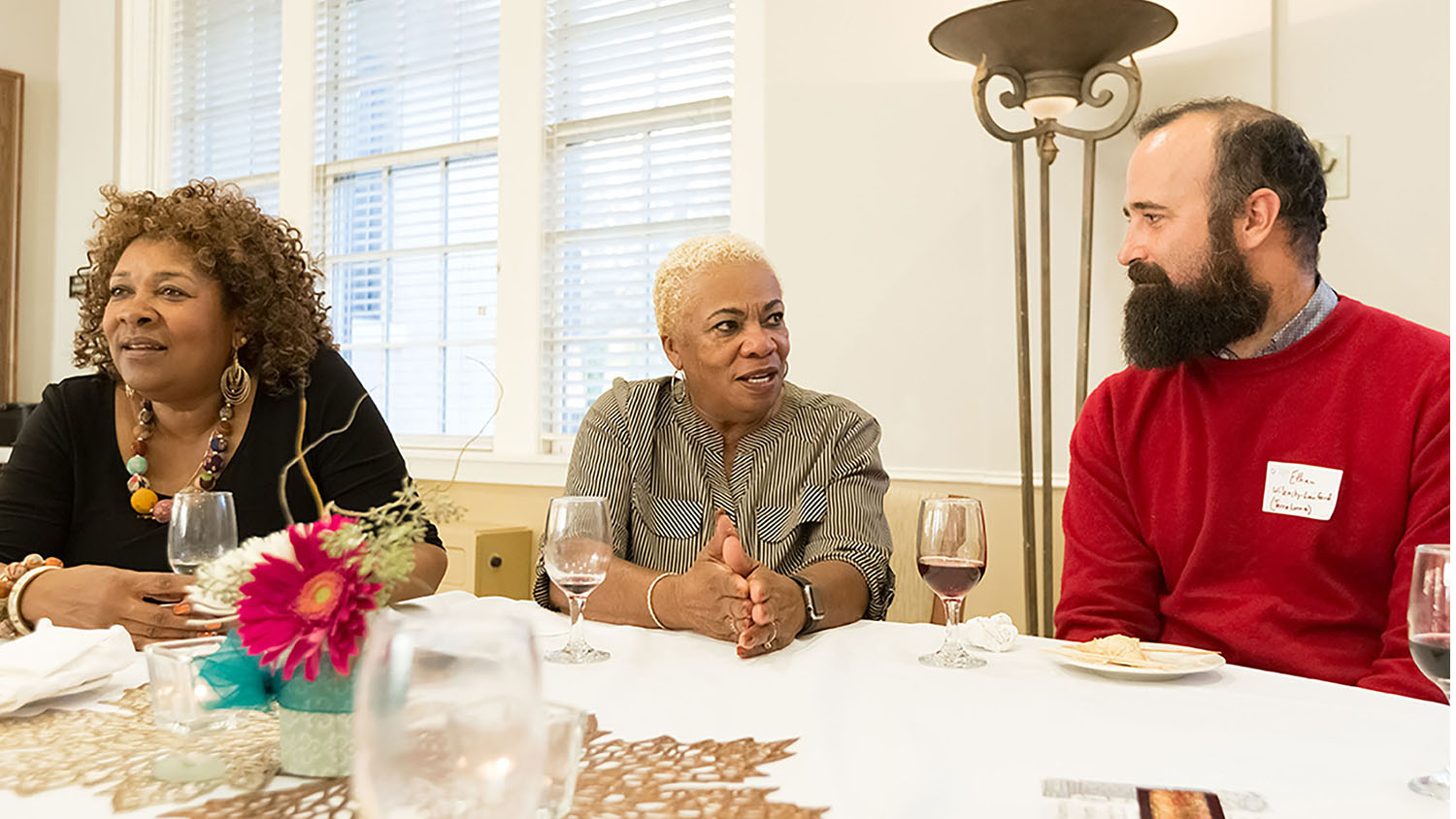 The Minnesota Humanities Center (MHC) acknowledges that the funding process can create barriers and fatigue. You can find everything you need to apply below, but if you would rather have a conversation, give us a call. We will walk you through it. Contact Laura Benson, assistant director of grants and administration, at 651-772-4244 or laura@mnhum.org.
Humanities Innovation Lab: Program Description
The Humanities Innovation Lab supports individuals or organizations who use humanities practices and subject matters to make small steps toward a big idea. The Lab supports experimenting, playing, learning, and growing as the essential spark for humanities ideas with public impact.
MHC values collaboration, good ideas, a humanities approach, and community-driven solutions, so we also look to fund opportunities that could lead to deeper engagement and partnership.
Goals
Create opportunities for all Minnesotans to think critically using the humanities in their communities
Engage Minnesotans of all ages in appreciation, expression, and connection to their history, heritage, and community
Selection Process and Timeline
MHC will assess proposals on the following timeline.
11:59 p.m. March 26, 2021 – Application deadline
April 30, 2021 – Lab Recipient notification
May 1-October 31, 2021 – Lab activities
Eligibility and State Funding Requirements
Who is eligible: Individuals, teams of no more than three individuals, nonprofit organizations (with 501(c)(3) status or a fiscal sponsor that holds 501(c)(3) status), not-for-profit entities, tribal nations, and state/municipal public agencies such as K-12 schools, colleges/universities, or libraries are eligible to apply. All organizations and individuals must be based in Minnesota, in good standing with the IRS, and up to date on reporting and state requirements for any funds previously awarded by the Minnesota Humanities Center.
Note: In good standing with the IRS means that the organization has completed all reporting requirements and can therefore receive tax-deductible charitable contributions. We use the IRS Tax Exempt Organization Search to confirm IRS compliance.
Fund requirement: The Arts and Cultural Heritage Fund, which underwrites this opportunity, requires that proposed and/or awarded funds support new work or new additions to existing work. These funds must supplement, not substitute, other funding sources.
The Arts and Cultural Heritage Fund prohibits funds from being used to:
Start, match, add to, or complete any type of capital campaign
Support capital costs (such as improvements, construction, property, or equipment)
Pay for indirect costs or other institutional overhead charges that are not directly related and proportional to, and necessary for, the activities outlined in the program proposal
Cover expenditures incurred before the date we authorize you to begin work
Support benefits and fundraisers
Purchase promotional giveaway items like t-shirts, keychains, etc.
Fund out-of-state travel
If an organization or project does not meet all of the above requirements, we will not consider it.
How to Apply
Eligible organizations can submit proposals in any of the following formats: online form, postal mail, video, or audio message. You may also feel free to suggest an alternative method to MHC at least one week in advance of the deadline.
Complete proposals, regardless of format, need to include the following information:
Individual/organization name
Individual/organization Address
If applicable, organization's Employer Identification Number (EIN) or fiscal sponsor information
Project contact information (phone and email)
What do you want to tell us about your organization?
What's your big idea?
What small step do you want to try?
How does your idea involve the humanities?
What audience will you reach and/or what community will you impact?
Tell us what's innovative about your lab.
How will you include MHC's Absent Narratives Approach™ in your Lab?
How much are you requesting? (Support from MHC will not exceed $2,000)
What do you plan on spending the requested funds on? Please list the item(s) and the amount for each item.
Ready to submit? Respond to the questions above by one of the following methods:
Online form: Submit through our online form
Audio Message: Leave us a message at 651-772-4263 or email us an audio recording (no longer than six minutes; preferred file type: mp3) to submissions@mnhum.org
Email: Send your proposal (preferred file type: Word or PDF) to submissions@mnhum.org
Video: Email us a link to your video (no longer than six minutes) to submissions@mnhum.org
Postal mail: Postmark by the deadline to:
Minnesota Humanities Center
c/o Innovation Lab
987 Ivy Avenue East
Saint Paul, Minnesota 55106
If you have questions or would like to submit your proposal in a way not mentioned above, contact Laura Benson, assistant director of grants and administration: laura@mnhum.org or 651-772-4244.
Assessment Criteria
MHC will assess proposals on the following criteria:
Implementation
How well do the small steps outlined in the Lab use humanities practices and/or subjects to address a bigger idea?
Innovation
How does the Lab innovate and why? What makes it new and different?
Alignment
How well does the Lab align with MHC's mission and Absent Narratives Approach™?
Going deeper
How does the Lab create potential for deeper engagement and collaboration with the Humanities Center?
In addition to the criteria above, we will give preference to organizations whose staff and board reflect the communities they serve, organizations led by indigenous people and people of color, and/or organizations in greater Minnesota. The final awardee pool may also be assessed wholly on its diverse range of project topics and geographic impact.
Shared Definitions
What do we mean by "innovation"? Innovation can mean lot of things, and we want you to demonstrate what it means to you. Perhaps you might think of innovation as a new idea, a new method, a new use of technology, a creative way of bringing people together, or a novel means of working, gathering, and thinking. Show us what innovation means to you and what benefit it can bring!
What do we mean by "humanities"? The humanities help us express, examine, and learn what it means to be human. They include our cultures, languages, ethics, civics, stories, religions, laws, philosophies, histories, and more. Humanities can refer to these disciplines as well as the activities and actions – reflecting, making meaning, connecting, questioning, etc.—that help us learn about our humanity and the human experience.
What do we mean by "lab"? This opportunity is about answering the question "What would we do if we had $2,000 and six months to try something new?" We are calling this a Lab to foster an exploratory environment in which you don't have to have it all figured out.
What is the Absent Narratives Approach™?At the core of the Minnesota Humanities Center's approach is a values-driven framework for community engagement and collaboration. We value learning from and with multiple voices, building and strengthening diverse relationships, recognizing the inequity or dangers of a single story, and amplifying community solutions for change. These values put relationships with people at the center of community change-making and center diverse voices statewide — especially those left out, marginalized, or otherwise absented from our education and public awareness.
Frequently Asked Questions
I applied/received an Innovation Lab before, am I eligible for an award this round?
Yes, you are eligible. MHC may choose to prioritize applicants who haven't received Innovation Lab funds previously, but previous applicants/recipients are eligible and welcome to apply.
Can I be awarded this round if I have received a different grant or have an open grant with MHC?
You are eligible if your proposed Innovation Lab project is different than the grant project you currently have with MHC.
I'm an individual, do I need a fiscal sponsor?
No, individuals do not need a fiscal sponsor.