St. Paul – Educator Workshop: Black Freedom Struggles
August 10, 2022 @ 9:00 am

-

3:30 pm

CDT

$75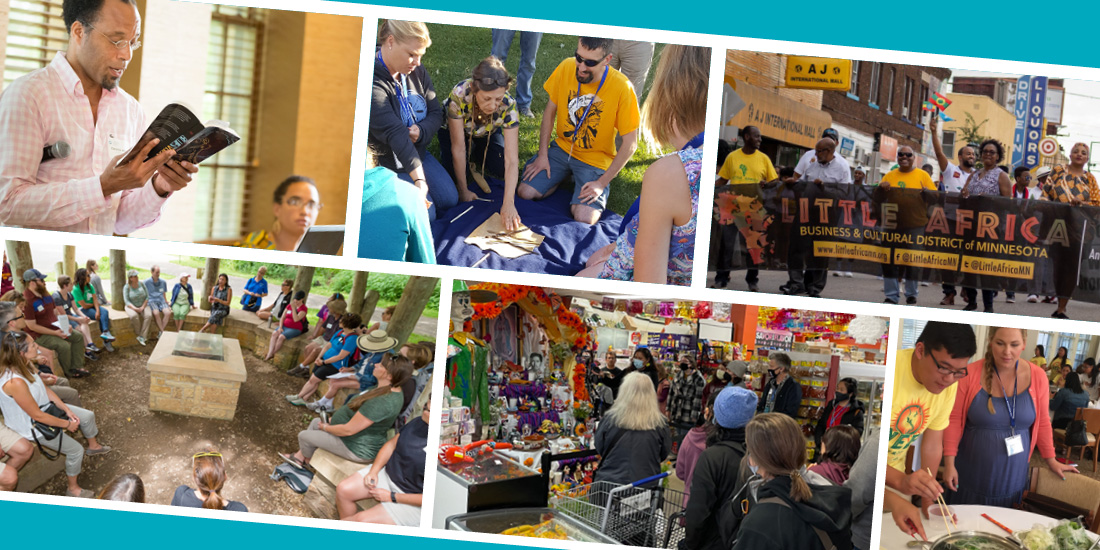 Black Freedom Struggles, with Adam Bledsoe and Lauretta Dawolo-Towns
This workshop will explore Black struggle as a global phenomenon with particular emphasis on historical and current movements led by Black communities. During this interactive workshop we will investigate Black freedom struggles from around the world, paying special attention to these Black forms of struggle as expressions of Black agency and self-definition. The workshop will help broaden our understanding of Black freedom struggles beyond well-known moments like the emancipation of slavery and Juneteenth, as we delve into topics like maroon communities, work stoppages, and self-defense from locations including the U.S., Brazil, Cuba, and Angola. We will also emphasize how historical struggles continue to influence present-day politics. Through large and small group projects and hands-on activities we will think through how to best incorporate these often-unknown struggles into classroom curriculum. Participants will have access to new resources, materials, and tools to help improve student learning in the classroom.
Scholar Adam Bledsoe is an assistant professor in the Geography, Environment & Society Department at the University of Minnesota. Born and raised in the Twin Cities, Adam's intellectual and political commitments revolve around the ways in which Afro-Diasporic communities analyze and critique dominant forms of politics, while also conceiving of, and enacting, their own political formations. His work has taken him around the United States, the Caribbean, Central America, and South America, where he has learned from, and exchanged ideas with, a variety of Black communities.
Lead Teacher Lauretta Dawolo Towns earned her B.A. in English and American & Racial Multicultural Studies with a Media Studies minor at St. Olaf College in 2004. Her professional background is in community and ethnic media, specializing in coverage of underrepresented and underserved populations. In 2016, she received a Master of Arts in Education from Augsburg University after earning a teaching license in Communication Arts and Literature. She currently teaches 8th grade English Language Arts at Roseville Middle School, and also teaches in the Adult Basic Education program in the same district. Lauretta lives in Inver Grove Heights with her husband and two sons.
For the full Learning Journey experience, we recommend signing up for these Learning in Community offerings: Kumbayah: The Juneteenth Story.
Registration
If cost is a barrier, please contact Jessica Rust at jessica@mnhum.org before registering.
K-12 educators will receive 6 clock hours.
Registration Questions: registrations@mnhum.org | MHC Cancellation Policy
REGISTRATION FOR THIS EVENT HAS CLOSED