St. Paul – Feeding Our Souls: The Essence of Asian Joy
May 4 @ 6:00 pm

-

8:00 pm

CDT

$20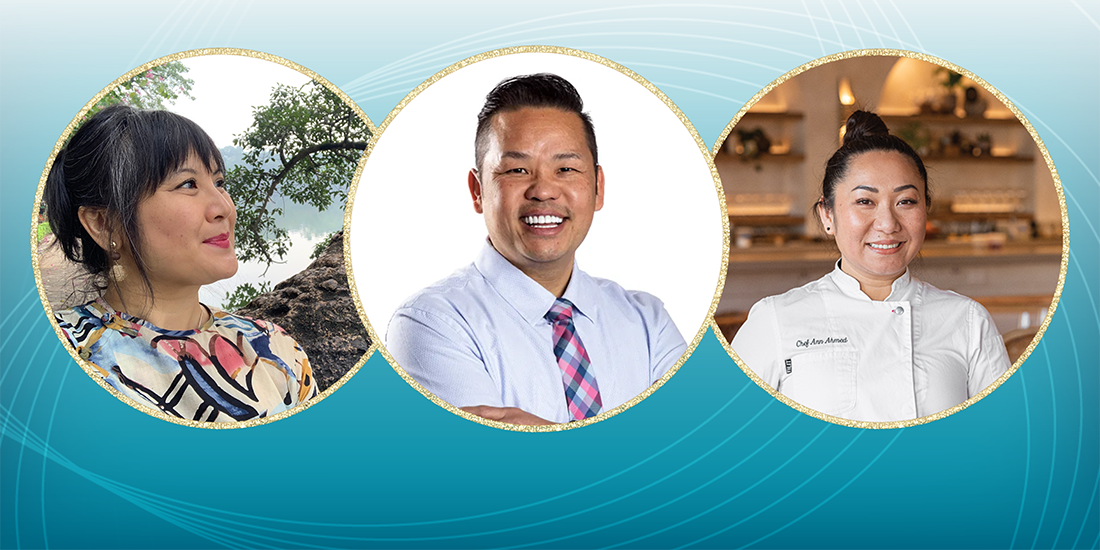 Join us as we commemorate Asian Cultural Heritage Month in May through food. Award-winning Chef Ann Ahmed, owner of Lat14 and Khâluna Restaurants, will prepare a few of her own authentic dishes. Anh-Hoa Nguyen, cultural food artist, poet, community activist, and educator will take audiences on a tasting journey of "rice." These comfort foods will be served through Chef Ann and Anh-Hoa's experiences from the richness of diverse Asian cultures. Special storytelling by award-winning artist and comedian Tou Ger Xiong. Participants will partake in the variety of flavors through "taste circles" and share memories of food from their own experiences.
Ánh-Hoa Thị Nguyễn, MFA is a refugee, poet, community artist, curator, educator and food scholar/writer. In 2018, she was the artist-in-residence for The Floating Library with her project Waves Enfolding: A Paper Memorial that honored lives lost during the Vietnamese refugee waves of 1954 and after the war in Vietnam and South East Asia, 1975-1992. Her most recent publication is a food essay titled Buy 10 Get 1 Free! Open Letter to Bánh Mì Wanna Be's in "What We Hunger For: Refugee and Immigrant Stories about Food and Family" edited by Sun Yung Shin 신 선 영. Inspired by "What We Hunger For" Ánh-Hoa was also the artist-in-residence for Saint Paul Public Library's 2022 Read Brave program where she created and curated an interactive community art installation called Recipes for Care that invited community members to share "recipes that ignite, shape, and support a community of care in their lives." Ánh-Hoa is currently working on a food memoir with the Minnesota Historical Society Press and is a member of She Who Has No Master(s), a collective of women and gender-nonconforming writers of the Vietnamese diaspora.
Tou Ger Xiong (TOO-JUR-SHONG) was born in Laos in 1973. Since Xiong's father served with the CIA, his family had to flee Laos after the communist takeover in 1975. Xiong's family escaped across the border and sought refuge in a Thai refugee camp. After four years in the camp, Xiong's family immigrated to the United States as refugees of war. Xiong's childhood in America began in the public housing projects of St. Paul. In 1992, Xiong graduated valedictorian from Humboldt High School. He went on to receive a degree in political science from Carleton College in Northfield, Minn. In 1996, Xiong created Project Respectism, an educational service project that uses comedy, storytelling and rap music to bridge cultures and generations. Since then, Project Respectism has evolved into a program that provides cultural entertainment and education for people of all professions and backgrounds. Xiong has taken his message about respect to 44 states in the past 12 years. He has given over 1,600 presentations nationwide to audiences of all ages and ethnic backgrounds, sometimes reaching as many as 10,000 people in a week. Xiong's work as a Hmong artist and activist has been featured on national television, radio and newspaper. He has been quoted as "one of the most influential Hmong in America today."
Chef Ann Ahmed's love for cooking started at a very young age, working in the kitchen alongside her mother whenever she could. She and her family left her birth country of Laos when Ann was two years old. They lived in a Thai refugee camp until she was four, at which point they were sponsored by her great uncle to come live with him in Minnesota, which has been home ever since. Upon their arrival, her mother took multiple jobs to support their family. Because of her mom's busy schedule, Ann rarely had time to spend with her, so whenever she was home, Ann was glued to her mother's side, especially in the kitchen! This is where Ann's love of cooking began. After graduating from high school, Ann shared with her mother her dream of owning a restaurant. She rejected the idea, explaining why life in the restaurant industry can be very difficult. Instead, she suggested Ann go to college and get a degree – in anything except culinary studies. As such, Ann moved to San Diego and attended San Diego State University, where she later earned a BA in Liberal Studies. One day, out of the blue, her mother called – she had gone on a walk that morning, saw a restaurant for sale, and asked if Ann would be interested. Of course, Ann instantly said YES! Ann's mother was planning to attend Ann's commencement that week, and instead, headed to the bank to start the process of buying the restaurant which is now Lemon Grass.
Thirteen years later, Ann opened her second restaurant, Lat14 Asian Eatery; inspired by her love of food and desire to share culture. Mostly, she wanted to cook the food that brings people together around the table. Lat14 Asian Eatery provides diners the opportunity to eat their way along the exciting, diverse 14th parallel – without the long airplane trip. Small, shareable plates are inspired by Chef Ann Ahmed's connections to Laos, Thailand, Cambodia, Philippines, and their neighboring countries, bringing their flavorful cuisines, ingredients, and cultural traditions, to deliver an exceptional culinary experience.
Registration
If cost is a barrier, please contact Jessica Rust at jessica@mnhum.org before registering. Due to the focus of this program, the fee is waived for Asian community members residing in Minnesota. You are invited to register with promo code COMMUNITY23.
Registration Questions: registrations@mnhum.org | MHC Cancellation Policy
REGISTRATION FOR THIS EVENT HAS CLOSED