St. Paul – Feeding Our Souls: The Essence of Latino Joy
October 5 @ 6:00 pm

-

8:00 pm

CDT

$20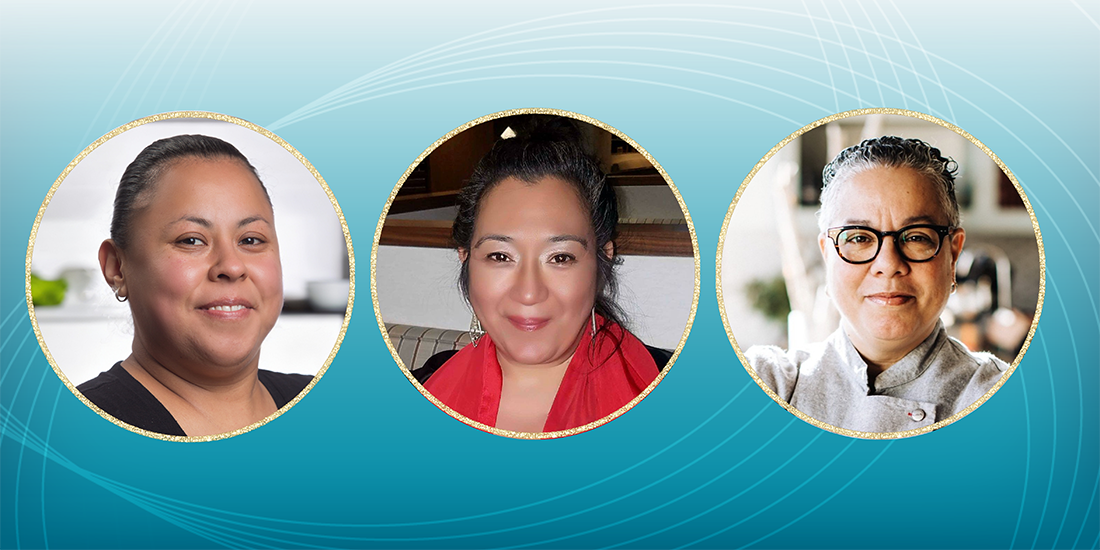 The aroma of inviting cuisine continues to fill the halls of the Minnesota Humanities Center (MHC) as we commemorate Latino Cultural Heritage Month through food. MHC's very own head chef and kitchen manager Lorena Bonilla and distinguished chef and owner Nettie Colón at the RedHen Gastrolab Concepts will prepare and serve comfort foods from their rich culture joined by emcee and poet Lupe Castille. Participants will have a chance to partake in the flavors through engaging "taste circles" of the delectables and share memories of the power of food from their own experiences.
Chef Lorena Bonilla joined the Minnesota Humanities Center's (MHC) Event Team in 2002. In 2010 she became the Head Chef and Kitchen Manager responsible for overseeing the MHC Event Center kitchen and making sure that customer satisfaction is high, and food is delicious! She is responsible for the daily operation of the kitchen, caters over 300 events, and feeds thousands of people a year! She is the recipient of several culinary awards for her masterful creations served at MHC. When Chef Lorena is not cooking at MHC, she is spending time with family and friends at home where she enjoys making traditional meals with them. At age five Chef Lorena and her family moved from Zacatecas, Mexico to Bakersfield, California where her father worked at Dole Fresh Vegetables Company. She recalls how the family always had access to a variety of fresh vegetables. "My Mom is my greatest cooking inspiration," says Chef Lorena, "I grew up watching her make delicious food for the family. When I was around 12 years old, I started chopping the many vegetables for her to make Mexican style dishes. I loved my own special role in the kitchen."
Chef Lorena admits that she likes eating just as much as cooking. Her favorite thing to make and eat is Mexican soup – especially what she calls pesole which includes hominy added with chicken or pork. Sopa de fideo is a Mexican noddle soup that happens to be her son's favorite dish when made by her. The Fajita Buffet is one of the most raving reviewed menu items at the MHC Event Center. Chef Lorena's incredible fajitas are made just right – grilled chicken and beef served with seared peppers and onions, refried beans, Spanish-style rice pilaf, warmed tortillas, tortilla chips, and a condiments bar including lettuce, tomato, onion, cheese, sour cream, salsa, and guacamole.
Chef Nettie Colόn is a Minneapolis transplant by way of New York and Puerto Rico and spent her early years living a reverse West Side Story. Born in New York City and raised in Puerto Rico, Nettie Colón spent her formative years learning traditional cooking methods of the island with her grandmother, Maria Brigida Llanes de Jesus, and her friends. For all 48 grandchildren on her mother's side, time spent on her grandmother's farm in the remote central mountain town of Utuado offered an idyllic childhood. She got the love of cooking from her abuela, and to this day, that influence is very much alive in every dish that she prepares.
Her love of traveling comes from the time spent hopping around the island to eat with her family. Chef Nettie's father is from Cayey, where the sector of Guavate aka "The Pork Highway" is located. That is how she came to realize that people do travel for food, especially in Puerto Rico. This passion of traveling for food has led her to work all over the United States & abroad, with culinary adventures to West Indies, Wales, Spain, France, Sardinia, Southern Italy, Yucatan Peninsula, Costa Rica & Panama. She was Chef de Cuisine at Lucias Restaurant & Wine Bar for a decade. She also taught the history of Mayan cuisine in the Biosphere Reserve of Sia'an Ka'an in Tulum, Yucatan for 9 years where she fell in love with traditional Mayan cooking methods including Pibil, which lead to exploration of underground techniques from around the world such as Pachamanca, Curanto, Hangi and others.
She is Chef/Owner of The Red Hen Gastrolab Concepts (Red Hen Gastrolab, Red Hen Chinchorro & Red Hen Table) which is committed to the preservation of the relationships built around food traditions in the kitchen and at the table. She is also Resident Chef at The Break Room Minneapolis at The Historic Machine Shop, a James Beard Foundation Chefs Boot Camp Alumni, BA Craftmade Aprons "Project Black & Blue" Advocate, Market Chef & Mill City Farmers Market Charitable Fund Board Member of The Mill City Farmers Market.
Lupe Castillo @1heartspeakslupe (She/Her) creator of HeartSpeaks: Voices of Cultura Healing & Writing Circles is a proclaimed XicanaIndia from the Southern lands. Lupe is a Poet, whose recent written work is documented in the Northside Green "Our Urban Canopy" Art/Coloring Book, published in June, 2023 and featured at the 2023 State Fair. As a Culture Bearer, HeartSpeaks provides activated radical collaborations in writing and spoken word artistry. Lupe is also a co-founding member of Palabristas, a Spoken Word LatineCollective. Lupe is deepening her work as an Artist by partnering with other BIPOC & LatineArtist Collectives in the Twin Cities and beyond. She facilitates community gatherings and offers writing guidance where participants write about their connections to home, family, significant others, spirituality, Indigenous Identities, Murals and Cultural Arts.
Registration
Due to the focus of this program, the fee is waived for Latino community members residing in Minnesota. You are invited to register with promo code COMMUNITY23.
Registration Questions: registrations@mnhum.org | MHC Cancellation Policy