St. Paul – Headscarf Story Circle: The Promise
August 19 @ 9:00 am

-

4:00 pm

CDT

$20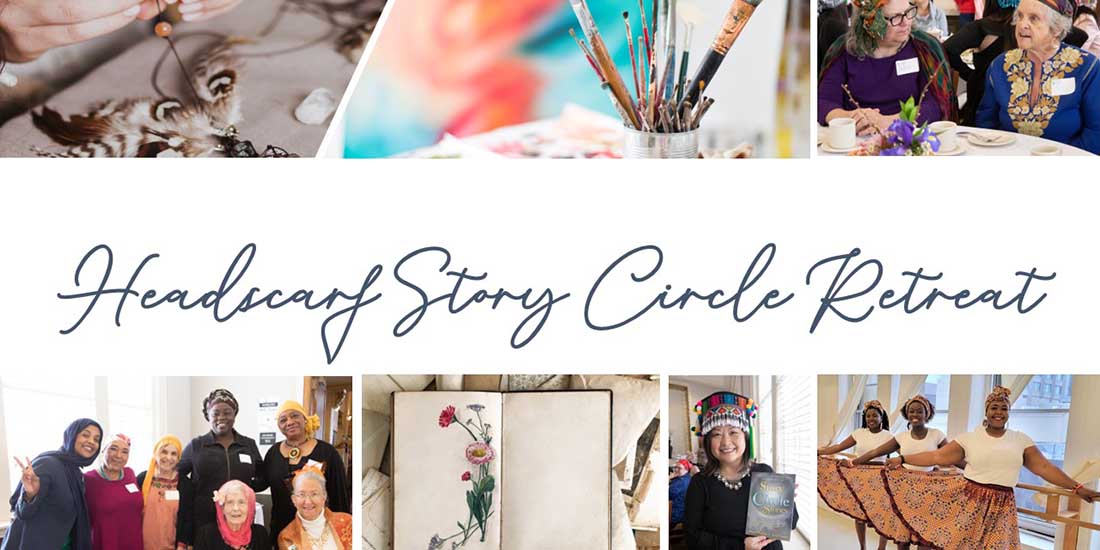 The Minnesota Humanities Center (MHC) is excited to host Headscarf Story Circle – a series of offerings that recognizes the strength and resiliency of women. Join us as we gather together through the shared connection of the headscarf and its complexity. Guests are encouraged to wear a headscarf or head dress that is symbolic of anything from a fashion statement, cultural identity, health related, or memories, and beliefs.
We kicked off the series by introducing women to each other through "Tea" followed by the "The Gift" where women exchanged symbolic items representing life lessons and personal power. Now we arrive at our third event "The Promise," a commitment to memorialize our story of who we are, the lessons we've learned, and how we can use our abilities and stories to support each other regardless of our differences.
Join us for a day-long retreat filled with cultural dancing and sharing, food, and many ways to memorialize the promise through writing, comedy, painting, and creating a personal artifact.
We are honored to feature the talent and cultural knowledge of women leaders and artists from the following organizations: Africontigbo, Amy A Jewelry, FAWK (Funny Asian Women Kollective), Memorialize the Movement, RISE (Reviving the Islamic Sisterhood of Empowerment), WISE (Women's Initiative for Self Empowerment), and Palabristas.
A breakfast buffet will be available from 8:15 AM -9:00 AM . The program will begin at 9:00 AM. Lunch and workshop materials included.
Agenda
8:15 a.m. – Doors Open
8:30 a.m. – Breakfast
9:00 a.m. – Program Begins
9:15 a.m. – Group Story Circle
9:55 a.m. – Workshop Session I (Workshop 1A: Re-writing Our Personal Narrative, Workshop 1B: The Specialness of Being: A Memoir Writing Workshop, Workshop 1C: Personal Narrative Writing: Telling Our Stories)
12:00 p.m. – Lunch
12:45 p.m. – Workshop Session II (Workshop 2A: Reviving Forgotten Treasures, Reviving Memories Through Jewelry, Workshop 2B: Finding the Comedy In Your Life, Workshop 2C: Paint to Express)
2:50 p.m. – Group Story Circle
3:25 p.m. – Rhythms of Africa
4:00 p.m. – Closing
Intergeneration participation is welcomed.
Registration
To ensure that cost is not a barrier, we have a limited number of complimentary spaces available for Minnesota residents. If you would like to receive a complimentary spot, please register with the promo code FEEWAIVER.
Registration Questions: registrations@mnhum.org | MHC Cancellation Policy
REGISTRATION FOR THIS EVENT HAS CLOSED