St. Paul & Online – MN Writers Series: Trauma Sponges
December 7 @ 6:00 pm

-

8:00 pm

CST

Free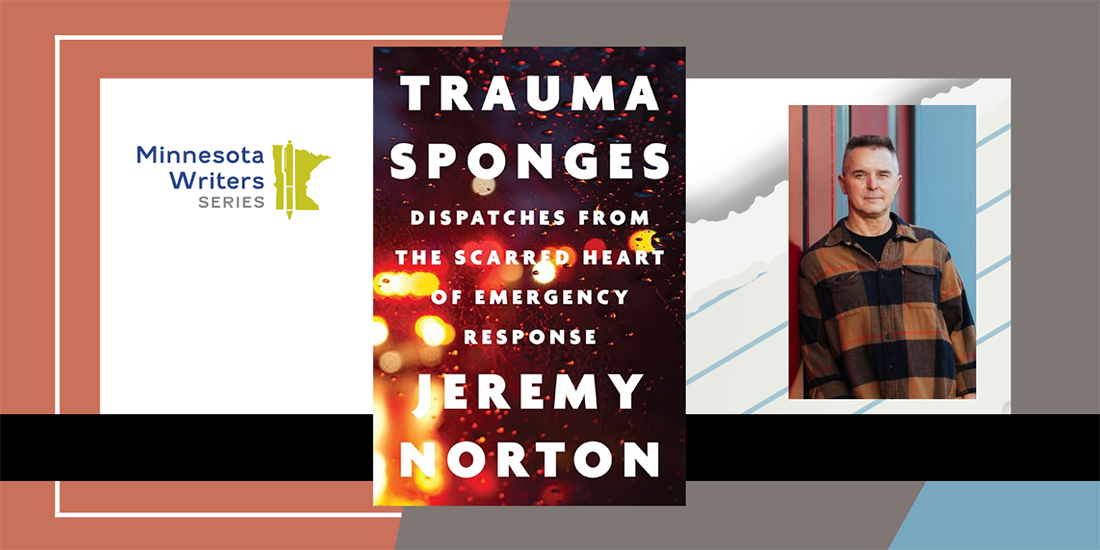 The Minnesota Writers Series welcomes Jeremy Norton, author of "Trauma Sponges: Dispatches from the Scarred Heart of Emergency Response" for a hybrid in-person and virtual event. Norton will use excerpts from his new book, published by University of Minnesota Press, to spark conversations with his co-panelists, Jeanelle Austin from the George Floyd Global Memorial, and attorney and police-reform activist Abigail Cerra. The three will explore topics ranging from racial inequality to mental health to toxic masculinity for a conversation titled, "Witness and Testify: Towards a More Just Community."
The Minnesota Writers Series is thankful for partners doing similarly aligned work supporting a diversity of Minnesota voices, like our community partner for this event, the MN Black Authors Expo: Leading, promoting and showcasing MN Black Authors.
About the book:
In this remarkable memoir, Jeremy Norton marshals twenty-two years of professional experience to offer, with compassion and critique, an extraordinary portrayal of emergency responders. Trauma Sponges captures in arresting detail the personal and social toll the job exacts, as well as the unique perspective afforded by sustained direct encounters with the sick, the dying, and the dead.
"While many bear witness to injustice and decide that silence best serves their privilege, some use their privilege to dismantle the inequities that created the disparities in the first place. Jeremy Norton is the latter."
—Dr. Michele Harper, author of The Beauty in Breaking
About the author:
Jeremy Norton has been a firefighter/EMT with the Minneapolis Fire Department since 2000; he was promoted to captain in 2007 and heads Station 17 in south Minneapolis. Born and raised in Washington, D.C., he received a bachelor's degree from Tufts University and a master's degree in creative writing from Boston University. After teaching high school in Chattanooga, Tennessee, Norton moved to Minneapolis, where he taught creative writing at the Loft Literary Center before joining the MFD.
Registration
This event is free but registration is required.
Registration Questions: registrations@mnhum.org