Learning from Place: Bdote
The Dakota language is written on the landscape of the Twin Cities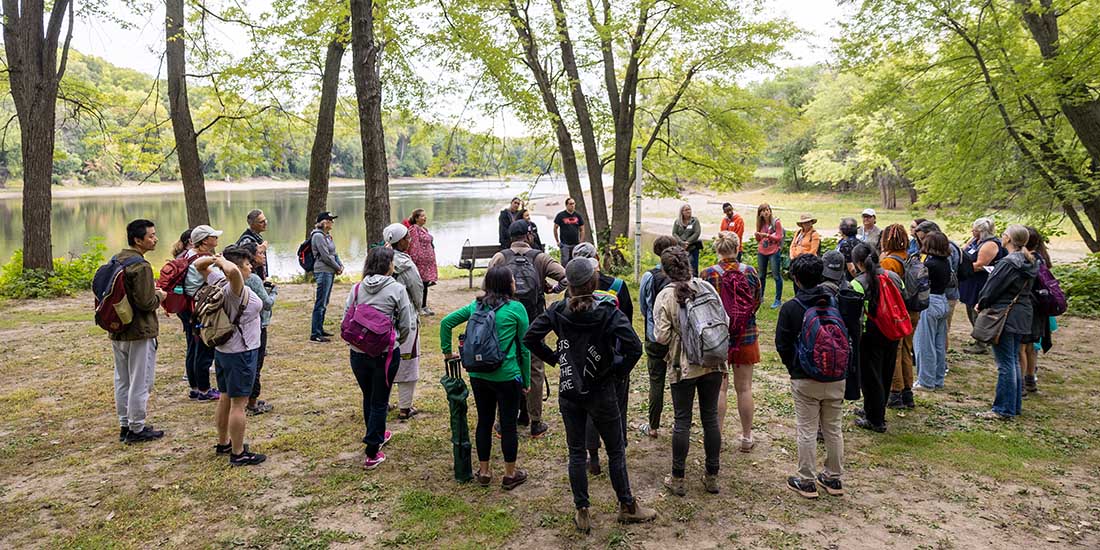 About the Workshop
Learning from Place: Bdote is an immersive experience that brings participants to sites of great significance to Dakota people in the Twin Cities. Participants will learn from Dakota community members through stories and histories that have often been left out of our state's history. This experience is open to the general public and is particularly beneficial for educators who want to include new perspectives in their history curriculum.
Participants provide their own transportation, lunch, snacks, and beverages.
K-12 educators will receive 5 clock hours.
Indigenous people of this place have the longest relationship to the land. Because of the nature of this program and experience, the fee is waived for indigenous participants. Contact Eden Bart at eden@mnhum.org before registering.
Due to the nature, serious content, and length of the day, this workshop is not intended for young children.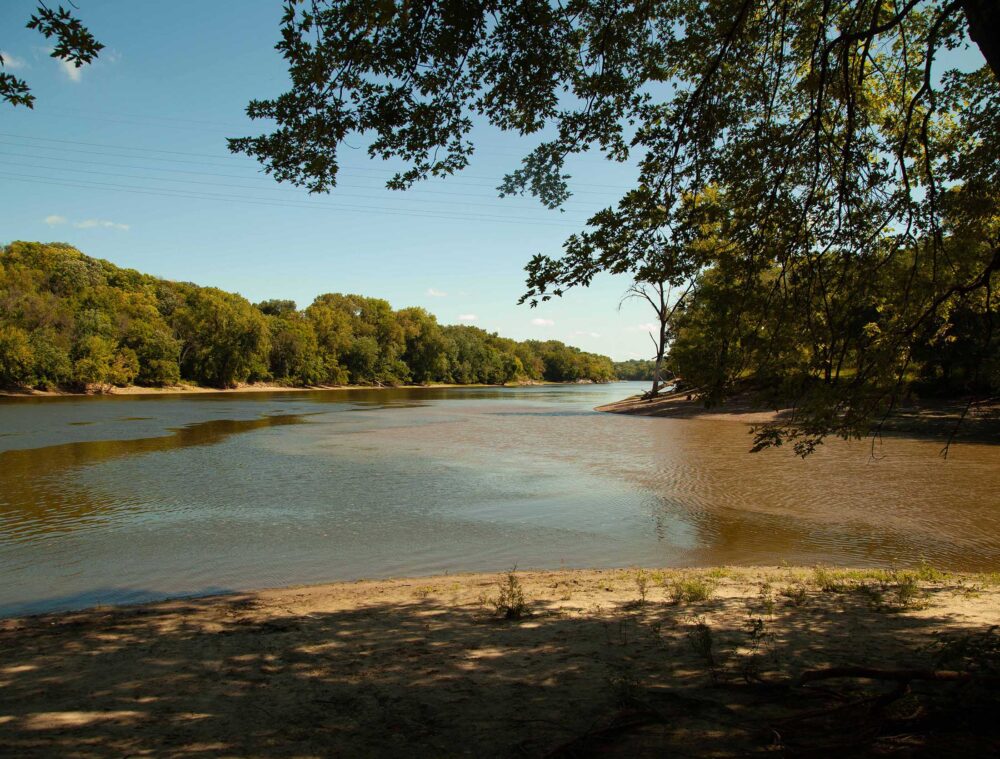 Definitions
Bdote – Bdote is a Dakota word that generally means "where two waters come together." The bdote where Ȟaȟáwakpa (Mississippi River) and the Mnísota Wakpá (Minnesota River) come together is central to Dakota spirituality and history.
Sites Visited
Fort Snelling State Park – The site of the Bdote. Also the site of the concentration camp for 1,600 Dakota women, children, and elders in 1862-1863.

Indian Mounds Regional Park – Dakota grave site that is thousands of years old. The mounds are representations of both the returning to the womb and the circle of life.

Pilot Knob Preservation Site/ Oȟéyawahe – A sacred Dakota burial ground and gathering place for centuries. The Treaty of 1851 was signed here.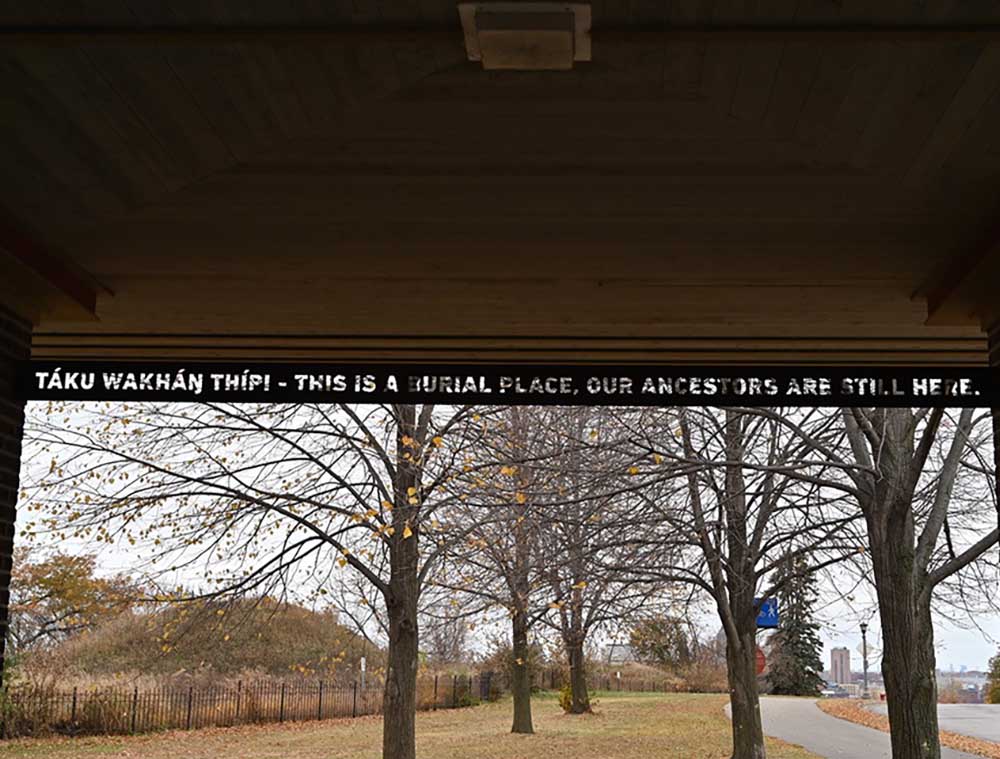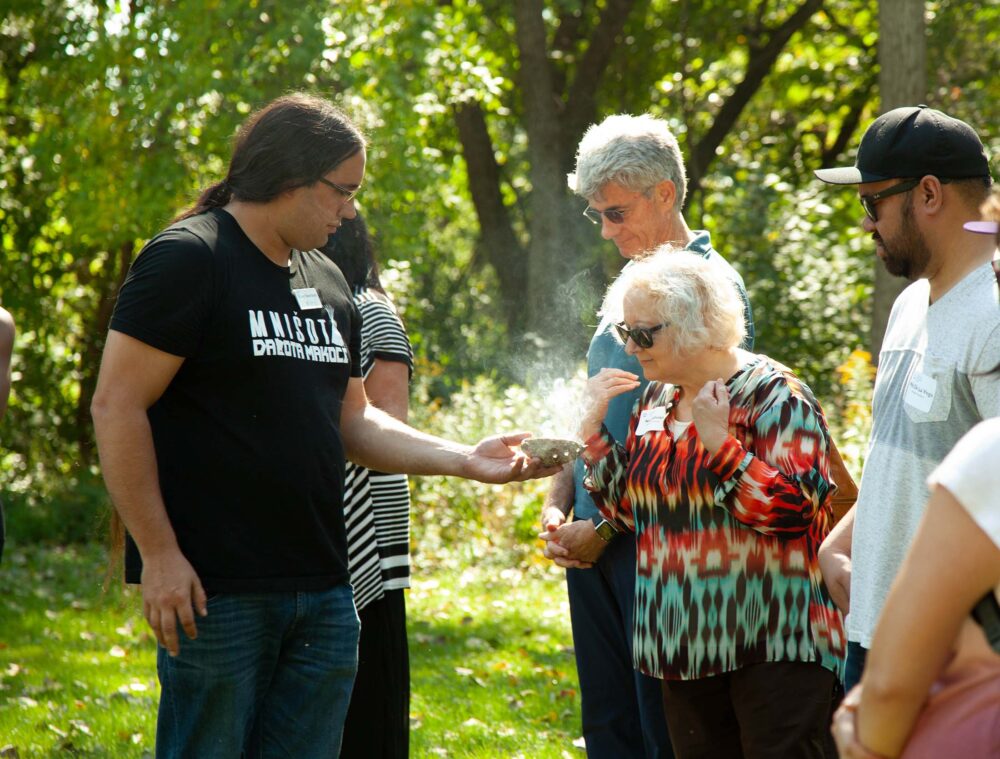 Expectations
Participants attend the entirety of the experience.

Participants provide their own transportation.

Participants bring their own lunch, snacks, and beverages.

Participants dress appropriately for the weather, rain or shine.

Participants wear comfortable walking shoes and are prepared for unpaved trails.
Outcomes
A deeper understanding about Dakota people's relationship to Minnesota.

A better understanding of the negative impact exclusion from the state's history and narrative have on Dakota individuals and communities.

Increased awareness of one's own conscious and unconscious biases.

Tools and resources to better engage students and community in a fuller history of Minnesota and the Twin Cities.

5 clock hours for K-12 educators.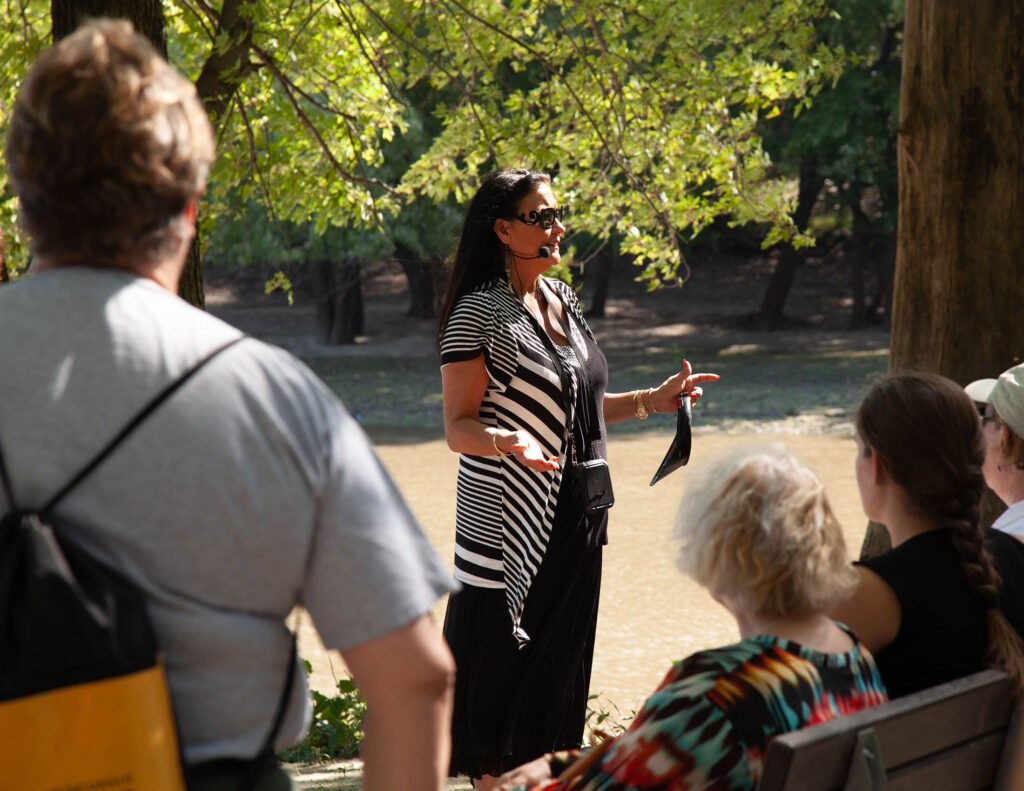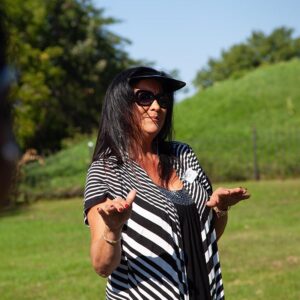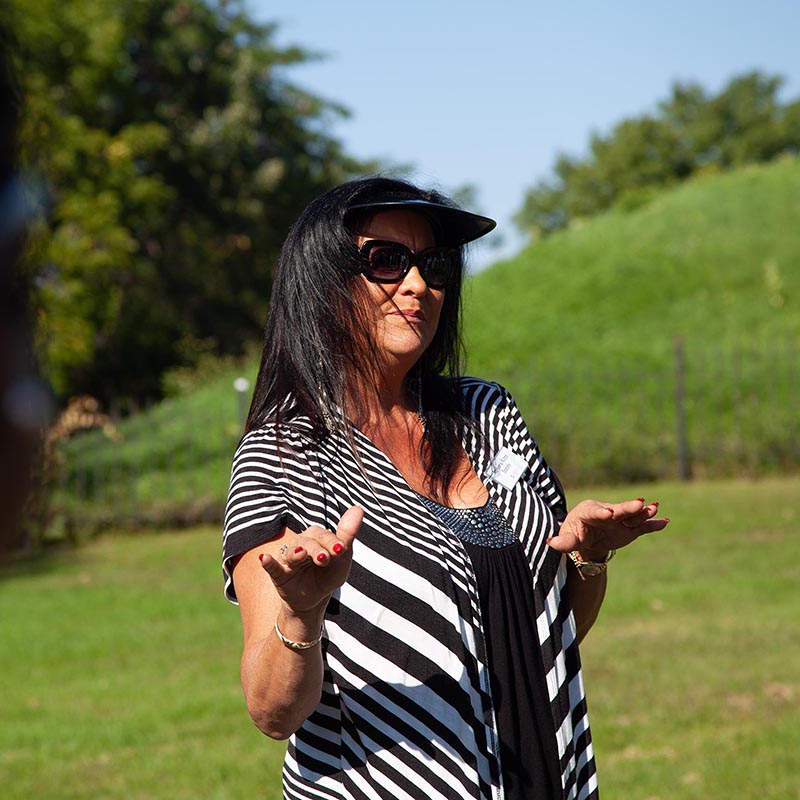 Ramona Kitto Stately
Ramona Kitto Stately is an enrolled member of the Santee Sioux Nation. Her educational background includes a BA in Dakota Art and Culture, and a MAE in Teacher Leadership. She worked in Indian Education for the Osseo Area School District from 2005-2020 and has been the Chairperson of the Minnesota Indian Education Association since 2018. Currently she serves as the Project Director of We Are Still Here MN.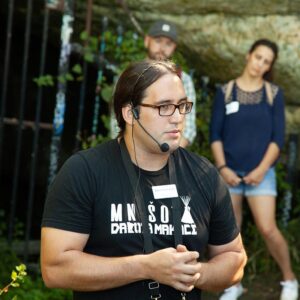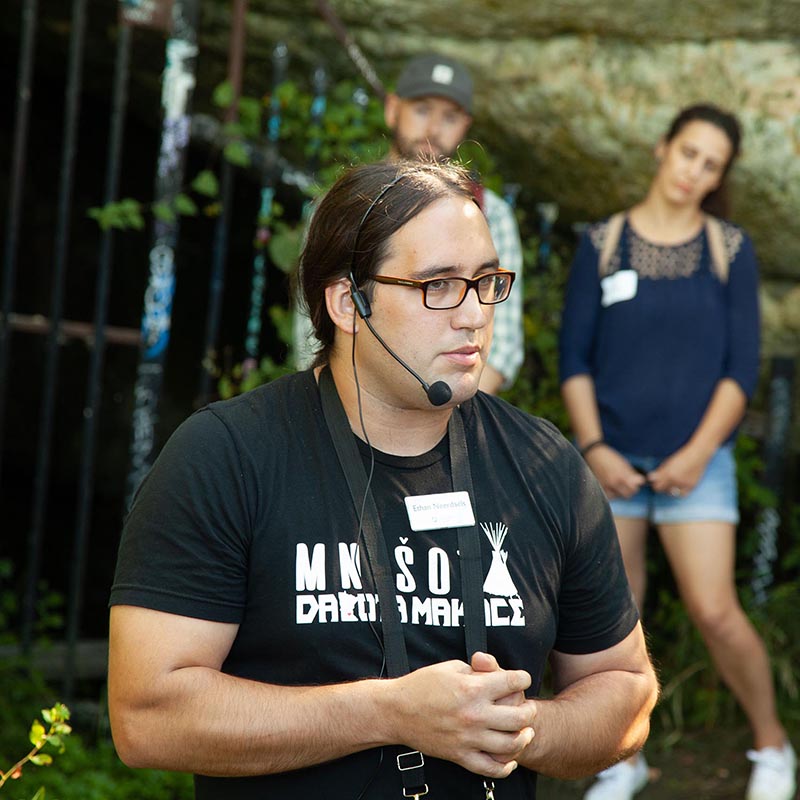 Ethan Neerdaels
Ethan Neerdaels, Bdewakantunwan Dakota, is a graduate of the University of Minnesota – American Indian Studies/Dakota Language programs. He currently coordinates the Indian Education program at Osseo Area Schools and works with Dakhóta Iápi Okhódakičhiye, a nonprofit organization dedicated to reversing the trend of language loss and raising future generations of Dakota speakers.
FAQs
What should I bring?
Lunch, snacks, and beverages. Depending on the season and weather, bring an umbrella or rain jacket, bug spray and sunscreen. Wear comfortable walking shoes. Consider bringing a portable camping chair if you are not comfortable standing for a period of time. Some people like to bring a notebook.
How rigorous is the hiking?
The day includes approximately 1.5 miles of gentle hiking, primarily on flat terrain. Not all paths are paved or even. Individuals with limited mobility may have difficulty. Contact us if you have questions.
Will you cancel a trip if it is raining?
The trip takes place rain or shine so come prepared for the weather. In the case of severe weather, we will make decisions as needed.
What kind of access is there to restrooms?
There are indoor or portable bathrooms at each site.
Can I bring my child/children?
This experience is primarily intended for adults, however some middle school and high school students have participated with a parent or guardian. The day does require a fair amount of standing, walking, and listening. We do not recommend this trip for children under twelve. We do not offer a youth discount.
Do you offer trips for student groups?
MHC does not have the capacity to offer field trips for student groups. If you are interested in booking a private trip, contact Eden Bart (info below). We offer a workshop in the fall for educators who have been on a Bdote trip and want to take students on their own trip. Learn more about Teaching Bdote.
Can I bring my dog?
Sorry, but no pets allowed.
Do you offer discounts for groups?
No.
Do you offer private trips for groups?
Yes! Unfortunately, we no longer have capacity for private trips in 2023, but we will be offering them in 2024. For more info, contact Eden Bart at eden@mnhum.org.