Mankato – The Legacy of 9/11: Four Perspectives
September 8, 2022 @ 4:00 pm

-

5:30 pm

CDT

Free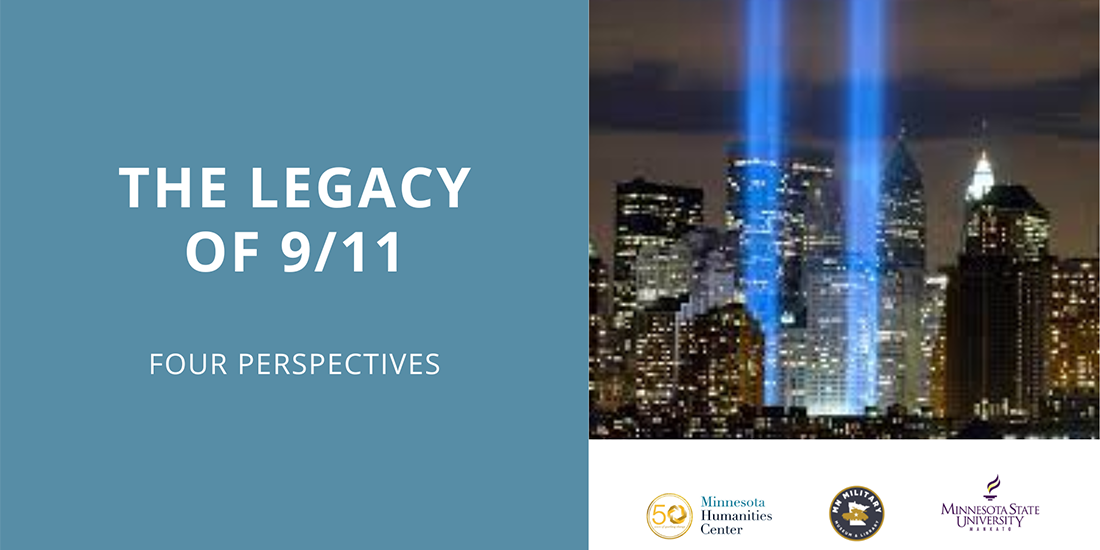 The September 11 attacks of 2001 remain among the most significant events in U.S. history, with lasting impacts on people from all walks of life. For many who experienced that day, the events of 9/11 are a flashbulb memory: we can remember exactly where we were, what we were doing, and how we felt. In conjunction with the 9/11 Exhibit from the MN Military and Veterans Museum, this moderated discussion will examine several perspectives on 9/11, exploring reflections, memories, and personal stories of how the event has influenced each speaker's life. We welcome community to gather to reflect on these memories, stories, and artifacts, as we grapple not only with the legacies of 9/11 but with the effects of war and conflicts affecting the world today.
Speakers include Yalda Hamidi, storyteller, Asst. Professor Gender and Women's Studies, Minnesota State University-Mankato (MSU-Mankato); Randal Dietrich, MN Military and Veterans Museum Director and historian; Mariah Jacobsen, daughter of Tom Burnett, passenger on board flight United 93; and Antonio Lain, Corporal Wisconsin Army National Guard, and Chemistry Major at MSU-Mankato.
This panel is held in conjunction with the Minnesota 9/11 and the Global War on Terror traveling exhibit, on display at MSU-Mankato in the main ballroom, from September 8-11, 2022.
Registration
Registration is appreciated for this free event.
REGISTRATION FOR THIS EVENT HAS CLOSED