Host "We Are Water MN"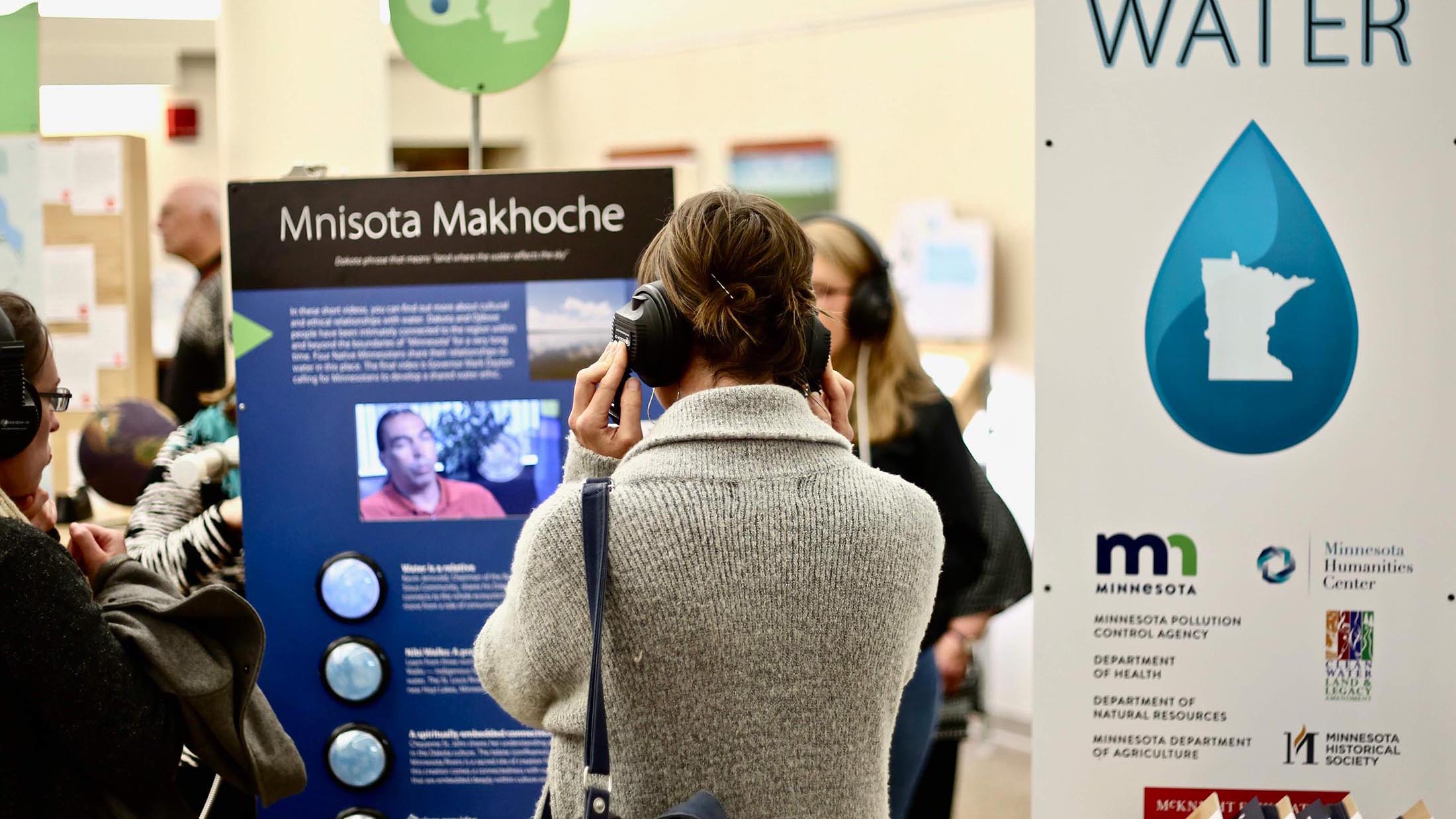 You can find everything you need to apply below, but if you would rather have a conversation, give us a call. We will walk you through it. Contact Jennifer Tonko, humanities officer, at 651-772-4264 or jennifer@mnhum.org.
Contact Us
Jennifer Tonko
"We Are Water MN": Program Description
Partnership: A partnership of seven statewide organizations, "We Are Water MN" tells Minnesota's water stories, bringing together personal narratives, historical content, and scientific information. Each of the partners – the Minnesota Humanities Center, the Minnesota Pollution Control Agency, the Minnesota Historical Society, the Minnesota Departments of Agriculture, Health, and Natural Resources, and the University of Minnesota Extension – brings a different approach that strengthens Minnesotans' relationships with and responsibilities to water.
Cohort: We work with host communities who see "We Are Water MN" as aligning with their own work. We orient them to the program as a cohort, hold monthly capacity-building webinars, make site visits, facilitate goal-setting meetings in their communities, and measure the quantity and depth of relationships that they build during the partnership. Host communities center and learn from absented voices during their hosting period.
Exhibit: "We Are Water MN" shares three key messages about water through a free and interactive traveling exhibit:
Nobody knows water like the people who live here.
We are the headwaters.
People change water; what you do matters.
Visitors of all ages can contribute content and touch, manipulate, and engage with the exhibit. You can see pictures on our Flickr site. We create five exhibit sections specifically for each host community location: a map where visitors can add their stories, a collection of audio personal narratives, inspiration stories of people or organizations who protect and affect water, a story about a farmer or producer in your area, and regional water stories that share the specific conditions, geology, histories, or other characteristics of water in your area.
If a host community prefers, you may opt to use the outdoor version of the exhibit instead. This version is pared down both in size and content. It is available as a no-touch or low-touch experience for visitors. Host communities will need to choose whether they wish to use the indoor or the outdoor version of the exhibit.
Stories: "We Are Water MN" also collects stories. A professional story gatherer works with each host community to collect personal narratives about the meaning of water and share them digitally.
Public programming: "We Are Water MN" host communities design public programming in partnership with other organizations and individuals in your community. Examples of past public programs include contests; workshops; speakers; music, film, and theater festivals; companion exhibits; school partnerships; tours; and water tours or field trips.
Our work together: Host communities' main duties are to develop local partnership relationships and plan public activities. Learn more about our work together, including what you would be responsible for and what MHC and its partners will provide.
Connect: We'll build a network of people who protect and affect water in your area.
Engage: We'll create community engagement activities and public events that build relationships and responsibilities to water and complement your community goals.
Educate: We'll share personal narratives, historical content, and scientific information about water in Minnesota and in host communities.
Host Communities Program Timeline
August 8-11, 2022: Host community semifinalist interviews
September 22-23, 2022: Host community orientation (Fergus Falls, MN)
October 2022-February 2023: Capacity-building webinars, shared goal-setting meetings in communities, public event planning, locally specific exhibit content gathering
March 1-1, 2023: Tour launch retreat (exact site TBD, will be held at host community #1)
March 2-April 24, 2023: Host community #1
April 27-June 19, 2023: Host community #2
June 23-August 15, 2023: Host community #3
August 17-October 9, 2023: Host community #4
October 12-December 4, 2023: Host community #5
Program Goals and Core Values
The humanities provide a gateway to expanded understanding, curiosity, and learning—about people, cultures, and societies. The humanities connect people and communities, bridge differences, interpret the complexities of our world, and positively shape our collective future.
We Are Water MN deepens connections between the humanities and water through a network of partnerships, a traveling exhibit, and public events. We Are Water MN helps communities, organizations, and individuals make better, more collaborative, and more relevant choices about water.
Goals:
Share state and local histories and narratives about water.
Build Minnesotans' individual relationships with water by sharing multiple perspectives.
Build Minnesotans' individual responsibilities to water.
Support the expansion of local networks within host communities.
Build relationships between Minnesotans through community engagement events and activities.
Build host site capacity to practice the Minnesota Humanities Center's Absent Narratives Approach.
At the core of our work is the Absent Narratives Approach, a principles-driven framework for community engagement and collaboration. These principles ask us to put relationships with people at the center of community change-making and to center voices that have been absented. The four core values are:
Learn from and With Multiple Voices
Build and Strengthen Diverse Relationships
Recognize the Inequity (or Dangers) of a Single Story
Amplify Community Solutions for Change
Selection Process and Timeline
The selection process has two rounds. In the first round, MHC staff and partners will review Statements of Interest from interested and eligible applicants. MHC staff and partners will interview semifinalists as part of final selection.
Note: This opportunity is pending funding.
11:59 p.m. July 22, 2022 -Statement of Interest deadline
August 4, 2022 – Semifinalist notification
August 8-12, 2022 – MHC staff and partners interview semifinalists
August 15, 2022 – Finalist notification
Eligibility and Funding Requirements
Who is eligible: Individuals, teams of no more than three individuals, nonprofit organizations (with 501(c)(3) status or a fiscal sponsor that holds 501(c)(3) status), not-for-profit entities, tribal nations, and state/municipal public agencies such as K-12 schools, colleges/universities, or libraries are eligible to apply. All organizations (including fiscal sponsors) and individuals must be based in Minnesota, in good standing with the IRS, and up to date on reporting and state requirements for any funds previously awarded by the Minnesota Humanities Center.
Note: In good standing with the IRS means that the organization has completed all reporting requirements and can therefore receive tax-deductible charitable contributions. We use the IRS Tax Exempt Organization Search to confirm IRS compliance.
If an organization or project does not meet all the above requirements, we will not consider it.
How to Apply – Round One
Eligible organizations can submit Statements of Interest in any of the following formats: online form, postal mail, email, video, or phone message. You may also suggest an alternative method to MHC.
Statements of Interest, regardless of format, must include the following information:
Organization name
Organization address
If applicable, organization's Employer Identification Number (EIN) or fiscal sponsor information
Project lead contact information (phone and email)
What would you like us to know about your organization/community?
Tell us about your general community/organizational goals right now.
How do you think "We Are Water MN" will help you meet your community/organizational goals?
What is going on with water in your community and how do you think "We Are Water MN" can help?
How will the project lead integrate "We Are Water MN" into your current workload? How might this project complement your current workload?*
What partners do you work with currently?
Who do you want to build relationships with?
Given what you know now about the program goals, how would you try to achieve the program goals in your community?
Given what you know now about the Absent Narratives Approach and four core values, how would you try to implement the core values in your community?
What audiences are you trying to reach, either with the exhibit or with the public activities?
Where would you like to display the exhibit?
*It is highly recommended that applicant organizations have at least one paid staff member. If you do not have a paid staff member, please reach out to humanities officer Jennifer Tonko at jennifer@mnhum.org or 651-772-4264 to have a conversation about organizational capacity before applying.
Ready to submit? Respond to the questions above by one of the following methods:
Online form: Submit through our online form.
Audio Message: Call us at 651-772-4263 to set up an opportunity to give us your Statement of Interest through the phone or Zoom
Email: Send your Statement of Interest to submissions@mnhum.org (w/subject line: "We Are Water MN host community")
Video: Email us a link to your video (no longer than 10 minutes) to submissions@mnhum.org (w/subject line: "We Are Water MN host community")
Audio: Leave us a message at 651-772-4263 to set up an opportunity to speak your application, or email us an audio recording (no longer than six minutes; preferred file type: mp3) to submissions@mnhum.org
Postal mail: Mail your Statement of Interest to: (*must be postmarked by deadline)Minnesota Humanities Center
C/O We Are Water MN host community applications, Jennifer Tonko
987 Ivy Avenue East
Saint Paul, Minnesota 55106
If you have questions or would like to submit your Statement of Interest in a way not mentioned above, contact Laura Benson at laura@mnhum.org or 651-772-4244.
Round One Assessment Criteria
MHC and our partners will assess proposals on the following criteria:
Program goals
How well will the host community meet the program goals and integrate the Absent Narratives Approach practices during their hosting period?
Integration
How well will the host community integrate the work of hosting "We Are Water MN" into their greater goals and priorities? How much capacity does the host community organization have to carry out this work?
Relationships
How well will the host community learn from relationships they develop over the course of their hosting?
Network
To what extent does the host community demonstrate the skills, interest, and capacity to add to the existing network of "We Are Water MN" host sites and the existing networks of MHC and its partners?
Clean Water Fund
What is the host community's potential to define and make progress toward a shared community goal that will also meet the goals of the Minnesota Clean Water Fund?
In addition to the criteria above, we will give preference to organizations whose staff and board reflect the communities they serve, organizations led by indigenous people and people of color, and/or organizations in greater Minnesota.